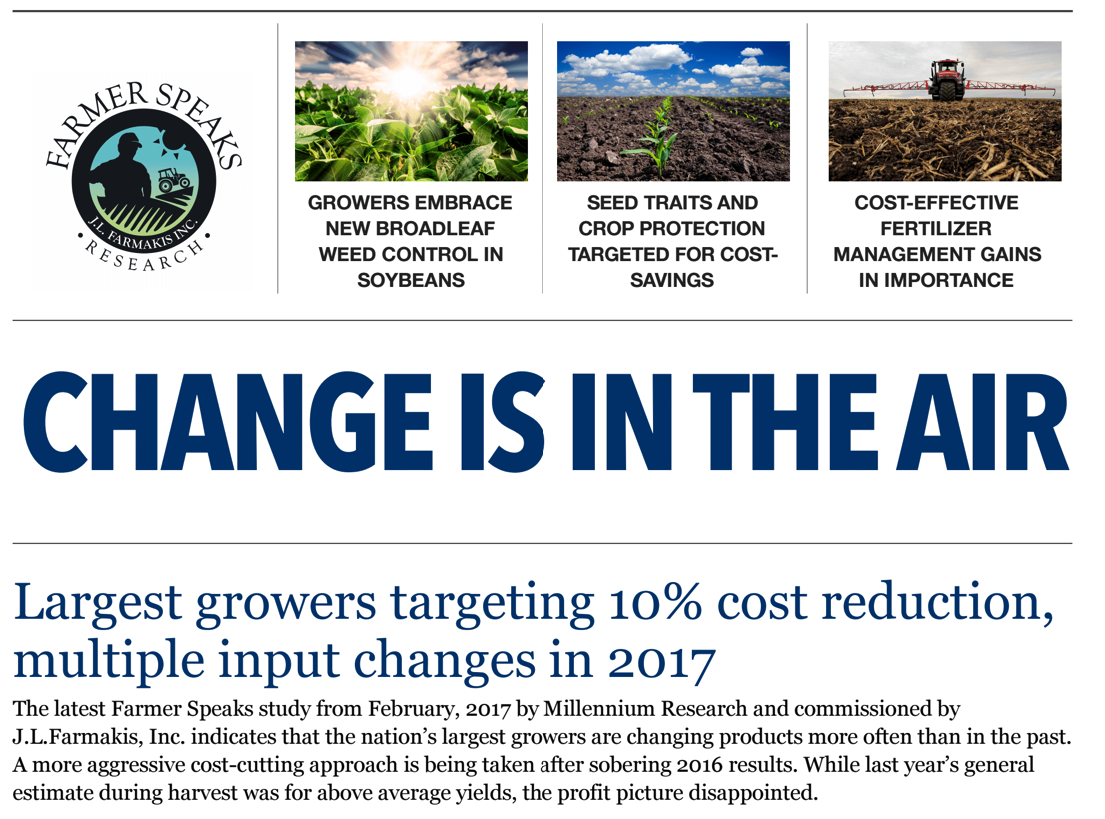 Largest growers targeting 10% cost reduction, multiple input changes in 2017
The latest Farmer Speaks study from February, 2017 by Millennium Research and commissioned by J.L.Farmakis, Inc. indicates that the nation's largest growers are changing products more often than in the past. A more aggressive cost-cutting approach is being taken, after sobering 2016 results. While the general estimate during harvest was for above average yields, the profit picture disappointed.
The average rating for the 2016 year was 68% for the entire panel. Growers with less than 2000 acres reported more positive results rating their decisions and results at 72-73%. The largest growers of corn and soybeans with more than 2000 acres reported the lowest satisfaction score of 57%. It is interesting to note that the largest growers indicated in last spring's Farmer Speaks survey that they intended to make the fewest changes.
The single most important target for cost-cutting in 2016 was equipment. Now priorities have shifted to a broader focus on many different opportunities. Almost two thirds of the growers surveyed are making two, three and four or more changes.
The largest growers are making the most changes and indicate many decisions are pending.
What level of cost-reduction are growers trying to reach for their 2017 crop? Growers with 1000 acres or more are the most aggressive acreage group this year, with a 10% reduction. When analyzed by age, the most aggressive cost-cutters are those farmers in the "40 and under" and "60-plus" age groups with 11% cost-savings targeted for 2017, while the "41-60" age group reported an 8% reduction in costs as their target.