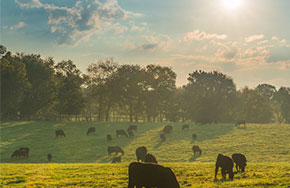 Study shows largest ag producers still uncommitted on crop protection products
As planting looms, the nation's largest growers are not committed to key crop inputs for the year. These were findings from the Farmer Speaks research study by Millennium Research and commissioned by J.L.Farmakis, Inc. This research shows a more aggressive cost-cutting approach is being taken after farmers experienced disappointing 2016 results.
What level of cost-reduction are growers trying to reach for their 2017 crop? Growers with 1,000 acres or more are the most aggressive acreage group this year, with a 10% reduction. Where are they making cuts? Tied for the number one position with 37% of farmers are changes in crop protection and seed traits. One in four of the respondents for the Farmer Speaks panel indicate they will use a new weed control system this year in corn or soybeans.
Greatest uncertainty on corn products
Among growers who are making changes, corn farmers report more than a 50% change is anticipated for many categories of crop protection products. Also significant is the fact that farmers indicate more than 1,000 acres on their farm remain undecided for herbicides, insecticides and fungicides, as well as seed treatments. With only a matter of weeks remaining before planting, farmers are still considering their options and costs.
Bill Farmakis, President of J.L. Farmakis, Inc. observes "Farmers are rapidly making many changes to squeeze out costs. Our study shows farmers are targeting inputs and delaying decisions." Farmakis shares that the number of acres where products are not decided for the season is higher than he recalls from the past. "There are still a great number of farmers, and a great number of acres who are in play," he notes.
Farmers swapping broadleaf soybean herbicides
The panel indicated high awareness of the new broadleaf soybean product offers for 2017 with 65% awareness. Not surprisingly, the growers also indicated increasing interest in soybean traits this year. Farmers with 2,000+ acres are making big changes in inputs and several are waiting to make decisions on crop protection products right up until planting.
Averaging 660 acres, 44% of soybean growers making a change will use a different product in 2017 versus 2016, generally reflecting the enthusiastic response to new broadleaf control products and a re-evaluation of other product categories.
The most undecided product categories are fungicides and insecticides for both soybeans and corn. One third of growers indicate they are not sure of their plans for these products in 2017. If interested in a copy of the latest Farmer Speaks study, contact your J.L. Farmakis, Inc. representative.